Thousands Gather To Pay Tribue to Barry Goldwater
'A Chapter Unto Himself'


"Barry Goldwater served America, all of America, a country conceived in liberty, a country that let you pledge any damn thing you wanted as long as it didn't cost someone else their liberty."
--Sen. John McCain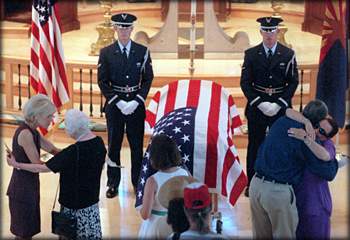 Former Sen. Barry Goldwater's family members, including his wife, Susan,
left, greet well-wishers as they pay their last respects at Trinity Cathedral
in downtown Phoenix. (Tim Koors / AP Photo)
By Matt Kelley
The Associated Press
T E M P E, Ariz., June 3 —Ordinary Arizonans joined the nation's political elite Wednesday to bid farewell to Barry Goldwater, the straight-talking senator whose failed 1964 run for president launched the modern conservative movement.
Thousands lined up in the desert heat to fill Gammage Auditorium at Arizona State University, where speakers honored Goldwater's public service and remembered, often with laughter, his heartfelt opinions and colorful language.
"Barry Goldwater served America, all of America, a country conceived in liberty, a country that let you pledge any damn thing you wanted as long as it didn't cost someone else their liberty," said Sen. John McCain, who replaced Goldwater in the Senate.
"In all the history of American politics, he will remain a chapter unto himself. The rest of us will have to make do with footnotes."
Politicians Congregate at Funeral
Goldwater died Friday of natural causes at his home in suburban Paradise Valley. He was 89.
The funeral drew two planeloads of congressional and other officials from Washington, D.C. The U.S. Senate shut down because so many senators wanted to attend.
"He changed our lives," former first lady Nancy Reagan said as she arrived for the funeral of the man who inspired President Reagan with his conservative views. "I remember him being a completely honest man—blunt, a very funny man."
Goldwater's public funeral culminated a two-day tribute that drew lines of mourners to the downtown Phoenix church where he was baptized.
Mourners Gather Before Dawn
Before dawn Wednesday, people began lining up to guarantee themselves places in the 3,300-seat auditorium.
"He's a one-of-a-kind man. There'll never another one like him," said Rick Henry of Phoenix, who arrived at 4 a.m.
"He exemplifies the state of Arizona," David Gordon of Scottsdale said. "He was his own person and he spoke his mind. He was one of the few people in Congress that was totally honest."
John Conneely came all the way from Hadley, Mass., saying he supported Goldwater during his presidential run and has been a fan ever since.
"I just admired his character," Conneely said when asked why he made the trip.
Air Force Pays Tribute
An Air Force honor guard carried Goldwater's casket into the auditorium, followed by relatives including his second wife, Susan. Hundreds crowded along a walkway to the auditorium as the casket passed, some in shorts, some wearing business suits.
Some in the crowd cried when Air Force fighters streaked overhead in "missing man" formation, a tribute to Goldwater's service in active military and reserves and his lifelong love of flying.
Long Life in Politics
Goldwater was known nationally as "Mr. Conservative." With cowboy bluntness, he relentlessly advocated trimming government, building a strong military and fighting communism, inspiring politicians including Reagan.
But his views and his campaign slogan, "In your heart, you know he's right," didn't resonate with voters in the shadow of President Kennedy's assassination. Lyndon Johnson portrayed Goldwater as a nuclear warmonger—"In your guts, you know he's nuts," his aides offered—and won in a landslide.
Goldwater served five terms in the Senate, retiring in 1987.
People here remembered Goldwater as "Mr. Arizona," a man born when this was still a territory and who grew into this state's favorite son.
He was an avid outdoorsman and photographer, taking pictures of American Indians and then-unspoiled Arizona scenery that stand as classics today. He had a passion for flying, serving in the Army Air Corps during World War II and remaining a pilot until his health no longer allowed it. He became a reserve general.
Babbitt Salutes Fellow Arizonan
"If you were to go anywhere in this country, virtually anywhere in the world, you would discover there are two Arizonans who are literally known throughout this planet," Interior Secretary Bruce Babbitt said in his eulogy. "One is Geronimo, and the other is Barry Goldwater."
Babbitt, who was Arizona governor while Goldwater was in the Senate, represented the Clinton administration. Also on hand were former senator and GOP presidential candidate Bob Dole, House speaker Newt Gingrich, California Gov. Pete Wilson and former Vice President Dan Quayle, who now lives near Phoenix.
"He said what he thought and he let the chips fall where they may," Quayle said as he arrived. "The reason he made a difference is because he stood by his convictions."
In later years, Goldwater's libertarian stance angered the Republican leadership, and he alienated some of the GOP's most conservative members on such issues as abortion, gay rights and the medical use of marijuana.
In the late 1980s, he complained the Republican Party had been taken over by "a bunch of kooks," referring to televangelist Pat Robertson and former Arizona Gov. Evan Mecham.
Private Man Recalled
But McCain praised Goldwater for defending his ground, "whether the ground he defended was in fashion at the time or not."
In the midst of stories about Goldwater the politician were anecdotes about a private life rich with laughter and family.
Goldwater's younger brother, Bob, set the audience laughing with tales of his brother's antics as a child and as a young man in the family's retail business.
The audience howled when he described a Goldwater innovation called "antsy pants"—white boxer shorts with red ants painted on them. They chuckled when he noted his brother's skill at picking out nice dresses—pausing before he mentioned that his brother sold them as well.
Many speakers recalled Goldwater's love of the land. A picture of the Grand Canyon was projected behind his casket, which was covered with the American flag.
Robert Tree Cody, a Maricopa and Dakota Indian, played a flute solo and gave a chant honoring Goldwater's long friendship with Arizona's tribes.
"You, you are a great man. You are with the elders now. You are a chief," he said, addressing the casket. "My people will never forget you as long as we shall live."
Rabbi Albert Plotkin and the Rev. Carl Carlozzi, rector of All Saints Episcopal Church, presided at the service. Goldwater was an Episcopalian but his grandfather, Arizona pioneer Michael Goldwater, was Jewish.
Family members said they planned to mix Goldwater's ashes with those of his first wife, Peggy, who died in 1985, and scatter them in the Grand Canyon at the confluence of the Colorado and Little Colorado rivers. Goldwater often called it his favorite spot.