by
John Gillespie Magee, Jr.
No. 412 Squadron, RCAF
Oh, I have slipped the surly bonds of earth
And danced the skies on laughter-silvered wings.
Sunward I've climbed and joined the tumbling mirth
Of sun-split clouds—and done a hundred things
You have not dreamed of—wheeled and soared and swung
High in the sunlit silence. Hov'ring there,
I've chased the shouting wind along and flung
My eager craft through footless halls of air,
Up, up the long, delirious, burning blue
I've topped the windswept heights with easy grace
Where never lark or even eagle flew.

And, while with silent, lifting mind I've trod
The high, untrespassed sanctity of space,
Put out my hand and touched the face of God.

John Gillespie Magee, Jr. was an 18-year-old American when he went to Britain in October 1940, during World War II, and joined the Royal Canadian Air Force. He flew in a Spitfire squadron and was killed at age 19, on December 11, 1941, during a training flight from the airfield near Scopwick, Lincolnshire.

The poem was written on the back of a letter to his parents which stated, "I am enclosing a verse I wrote the other day. It started at 30,000 feet, and was finished soon after I landed."

---



SCRAMBLE!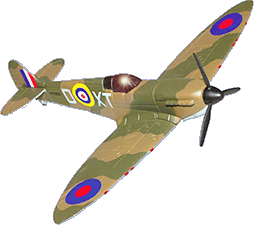 They're here, on the ramp, in very limited quantity for a test-market sale of high-quality
British Spitfire replicas, like that flown by High Flight poem's author, John Magee, Jr.


Summit Express
Climb to the Top
High Flight overlayed

The picture and SkyScapes logo above are links to the Skyscape Gallery and a sample of the bird's-eye-perspective skyscapes that are on display and available for sale, and where you can see a sample of a very nice laser print of the poem available if you just want the poem without a gallery picture.

These beautiful images of the ocean of air are actual photographs of planes in flight, not super-imposed or special effects. Additional details are on the gallery page.

To request information on ordering and price, please e-mail using this link for customerservice@silkscape.com or links on the gallery and image-display pages.

Military personnel, your service is appreciated! Orders shipping to APO and military-facility addresses are discount priced.

Additions will be periodically made to the gallery, so check back occasionally.

The background image for the High Flight page is not available.